How is Voice Intelligence transforming experience in Smart Hotels?
Regardless of where we all come from, how we are raised, and where we are headed, let's agree that the sound of our name is something that will always get our immediate attention, irrespective of the source.
Imagine walking into a room and being greeted with your name by a winning voice. Take a guess who it could be. Perhaps the first set of people that would pop into your mind are your family members or someone from your friend circle.
But what if we told you that this entity that has just greeted you as soon as you entered the room is a Personal Digital Assistant? Do we have your attention now? Good! 
OKBET/a>
Importance of Voice and Personal Digital Assistant in Improving Guest Experience
According to a report released by PWC, about 81% of guests desire better digital customer service from hotel companies. The same report also highlighted that about 25% of hospitality executives have reasons to believe that in the next five years, Artificial intelligence will considerably affect the way they operate. As we witness the Hospitality industry beginning to recover from COVID, the most recent survey confirms that travelers are more likely to stay in hotels that offer a contactless experience and are more technologically advanced.
These staggering facts and figures prove that mammoth digital improvements are expected from the hospitality industry, so customers can enjoy an enhanced living experience. The 21st century witnessed a sharp rise in the discourse and implementation of Artificial Intelligence and Machine Integration in hospitality and healthcare.
"As we witness the Hospitality industry beginning to recover from COVID, the most recent survey confirms that travelers are more likely to stay in hotels that offer a contactless experience and are more technologically advanced."
Artificial Intelligence, Voice AI, personal digital assistants, and the Internet of Things have revolutionized how we interact with things around us. Hitherto, when you entered a hotel room, all you were met with was a gush of cold air and an uncomfortable silence that enveloped you. But with a personal digital assistant, the first thing that you would hear as soon as you insert your key card is a hearty greeting from your next-door digital friend. The personalized touch that a personal digital assistant provides to the guests and residents adds a much-welcomed effect to their overall living experience. 
okbet boxing
If you ask us, it feels a lot like having a long-known companion in unknown surroundings next to you. Perhaps hearing someone take your name with such warmth would bring up some happy memories of home, away from home. That feeling of blissful nostalgia, we believe, is worth the required investment that personal digital assistants in the hospitality industry demand.
The scope of voice and sound is not limited to just greeting. Personalized experiences offered by 'Voice' include numerous service elements. With the digitalization of almost everything, including everyday objects, we can encourage responses from smart televisions, and home hubs through voice commands. This means you could use your voice to control the functions of a hotel room in several ways, including ordering room services, checking in or out of your room, or asking questions. Receiving reviews from the guests would also become considerably easier and effective. Your personal digital friend is already familiar with your name, so think of it as a virtual digital assistant that has been curated specifically to cater to your unique needs. Each guest gets to enjoy a unique personalized experience, which is what makes personal digital assistants the very best. 
okbet mlb
Now that we believe we've convinced you of the importance and convenience offered by Voice technology in enhancing guest and resident experience in the hospitality industry, let's look at some ways through which Revca brings this utopia to life through its Augmented Voice Intelligent Digital Experience platform.
Make Your Property Smart With AVIDxP
The Augmented Voice Intelligent Digital Experience platform (AVIDxP) is a comprehensive platform developed by Revca that integrates various intelligent protocols such as voice and visuals with smart things. With an improved level of automation, the guests and residents of your property could enjoy an unmatched context-aware connected experience, thanks to the Voice, Visuals, and Intelligence rendered by Revca's Augmented Voice Intelligent Digital Experience.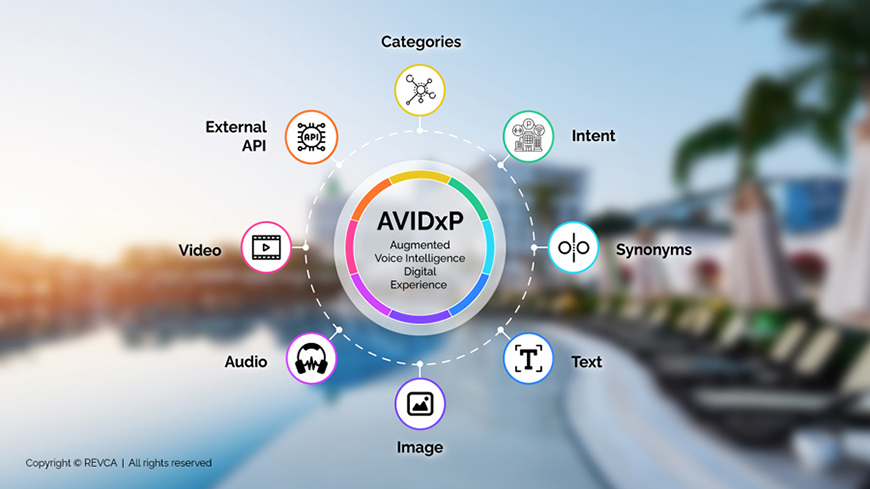 What's more is that we use state-of-the-art tools to gather data-driven insights on the needs of guests and residents and feed the data to property managers, to help them improve the overall guest experience. We do this through our cloud-based SAAS platform. We provide the property staff a platform to manage their content based on their unique needs and vision. The freedom to manage and configure the content that our platform provides to the staff ensures that they operate with much flexibility. 
okbet esports betting
Uniquely Manage Your Content With AVIDxP!
Content Management is an integral part of running a hospitality business. However, each establishment has its own modus operandi that it prides itself on. Naturally, property managers tend to crave flexibility in managing their content. Revca provides its partners with a plethora of resources such as pre-defined templates, and categories, which gives them enough raw materials to create something new for themselves. Consider our platform your very own artistic canvas, while we provide you with fancy brushes and paints that empower you to create something innovative and unique.
You could use your creativity to equip your content with eye-catching texts, images, videos, and above all, Voice. During all the phases of operation and implementation, Revca would provide you with the required support and sustenance, and ensure enough room for improvement, and long-term growth. Personalize your content as you please, and get the due backing from AVIDxP in terms of Automation, and everything associated with it.
Property and Room management is now easier than before, thanks to comprehensive machine integration, and intuitive UI/UX design provided by Revca. Apart from hospitality, we also work in several other key industries, including healthcare, automotive, sustainability, and smart manufacturing. 
okbet blackjack
To learn more about Revca and/or our Platform AVIDxP, please visit https://revca.io/avidxp/. You can also follow us on social media as well as drop us a note at sales@revca.io.